Designer Mode von TAGLIATORE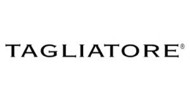 TAGLIATORE - Noble and classic men's fashion
The luxury label TAGLIATORE has been distinguished for years by an elegant cut, the noble choice of fabrics and modern details. TAGLIATORE combines subtle and dark shades with unique textures and patterns in their high-end
menswear
collections. The Italian fashion house's refined and elegant collections are particularly captivating due to their slim, fitted shapes that perfectly accentuate the body.
Tailoring Made in Italy
The Italian traditional family business TAGLIATORE is located in Martina Franca in the region of Apulia and is still successfully managed by the Lerario family. Pino Lerario is the creative head of the company and makes sure that the collections convince the fashion world through the art of tailoring, their high quality and their unmistakable design. Every single piece of the collection is made in Italy, where 180 employees work for TAGLIATORE and make the company what it is today. TAGLIATORE, which translated means tailor, was the nickname of Vito's grandfather. The company was named after him.
Distinctive character
The TAGLIATORE label has a high recognition value. Especially since the 1989 film Batman, for which TAGLIATORE designed luxurious garments, the fashion label is known to many. From that point on, things only went uphill for the label and the nostalgic-looking collections quickly conquered the fashion world. Initially, TAGLIATORE was particularly well known in Germany, Switzerland and Austria. A short time later, they also conquered the Scandinavian and Japanese markets.
Discover now online and in our loui.rocks store in Essen Bredeney the elegant and high quality
jackets
,
suits
and jackets from the Italian luxury brand TAGLIATORE.